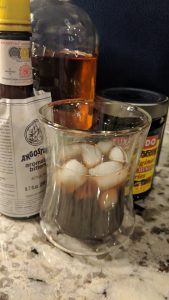 Welcome to the Old Fashioned Blog! We are super excited to announce that sometime around the first of the year we will be launching the Old Fashioned Real Estate Show where Brian and I will discuss real estate and real estate investing strategies while sipping on one (or more) of our favorite cocktails, the Old Fashioned. We would love it if you would visit our YouTube channel and subscribe now. This would be a huge help for us and will ensure that you don't miss a single episode.
In the meantime, I thought it might be helpful to share a basic Old Fashioned recipe.  After all the only thing I can think of better than watching our show, is watching it with an Old Fashioned in your hand.
Classic Bourbon Old Fashioned 
You will need the following ingredients
1.5 Ounces Bourbon
2 dashes of aromatic bitters
2 premium cocktail cherries (or a an orange peel)
2 teaspoons of simple syrup (you can use a muddled sugar cube and few drops of water)
1 large ice cube
Basically what you do is get yourself a low ball glass aka an old fashioned glass,  drop in the simple syrup and the bourbon, splash a dash or two of the bitters and mix with a spoon.  Once that's done add in the Cherries or Orange peel (little muddle if using a peel) and lightly stir in the ice cube.
Its super easy and really delicious.
Bonus Manhattan Recipe
All you need to do if you want to make a Manhattan instead of the Old Fashioned is to sub out the simple syrup for .75 ounces of sweet vermouth.
If you end up trying one of these recipes, let me know what you think.  Please also let us know if you have a particularly good version of the Old Fashioned you want Brian or I to try on an upcoming show we are always looking to up our Old Fashioned game.
If you haven't already done so we would love it if you would like and follow our  Facebook page as well.  We appreciate your support.
Cheers!